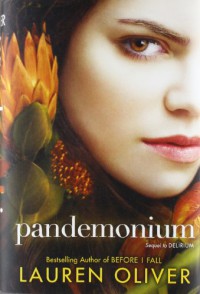 I
love
Lauren Oliver.
I
love
all of her books.
I
loved
the Delirium Trilogy ever since I read it at the back of
Before I Fall
saying that it was coming. SOON.
I just don't know
why
this sequel was any less different than its descendant. I fell in love with Delirium since the day I read its first words and when Pandemonium got out, I deflated.
It's just that I really, really, really like Alex and he was Lena's first love. And somehow, even when he just exists inside my head (or wherever he is), I began to think for myself that he was my first love for the series too. And it just
pains
me to know that he is gone. It hurts. Seriously.
And then Julian comes along, plays the fire with Lena and escapes together into the Wilds and created a whole magical world with ponies and rainbows and glitters and everything that sparkles. Not to be a bitch here - I like Julian, his good charms, his Golden boy charisma (he's the son of one of the Government Officials, Gosh). But with Julian, it just doesn't feel the same. I felt Lena's loneliness, her longing for Alex. It was like, I was her. And the feeling just hit me.